Well, a couple wounded later, the NFACkers made it through another "Cookout", as John Fitzgerald Johnson ("AKA, "Master of Fitz") called it. What have we learned?
We learned that they can't keep step to save their life (I know, you'd think they'd have that figured out). They really needed a drum. I told a friend it looked like the "Slinky" from a Brigade run. But it only looked like two Companies worth (maybe 300) of black clad, goth picnic attendees. My Buddy commented, "So it looked like a POG parade?". My response, "Yes.".
As I said in an earlier post, apparently there were some safety issues as they had a couple group inflicted, firearms casualties.
They now say they were just kidding about taking Texas. Sure guys…. of course you were…. What we already knew was that that idea was a joke, regardless of how serious you were.
They apparently want 14 Trillion in reparations. 14 trillion…..Is that factored in Mugabe's "Zimbabwe Dollars", cuz……nope. Maybe it's in my other pants.
Apparently, the "Master of Fitz" has given the Mayor of Louisville and the Governor of Kentucky four weeks to tell them (NFAC) "The truth" or as Fitz stated, with the group repeating the mantra, "We're gonna burn Da Muthafuckah down.".
Do I think this event will make his ranks swell? Sure. Many are always lookin' to ride the coat tails of others to get freebees and to also have a reason to blame others for their failings as responsible adults.
Do I think they've identified themselves and anyone who joins them now as a group that generally looks at white people as the enemy? Yes. You watch 5 minutes of the rhetoric "Master of Fitz" puts in one of his videos and it's readily apparent. Anyone following him can't say they didn't know what he (or the group) was about.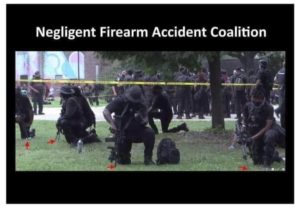 So now, in closing, we know that they apparently are the "Expert shots" Fitz declared them to be at Stone Mountain. Everyone they shot at today was hit, even if it was their own. As to them all being "Prior Military"? Sure they are…
JCD,
"Parata Vivere"-Live Prepared.