For a number of years I have been told by friends who have used the 77 grain stuff in combat, that it was a very effective round for the 5.56 AR platform. Although I have not talked to anyone who used a short barreled AR about it's down range, real world effectiveness, I was curious, after I bought a a half case of it from SGAmmo.com.
At almost 500 bucks with tax and shipping, that's almost a dollar a shot, so I hoped I was getting my money's worth. I was expecting good results out of my 16.5″ AR, but I did not expect my 11.5″ AR to exceed the longer barreled rifle's performance.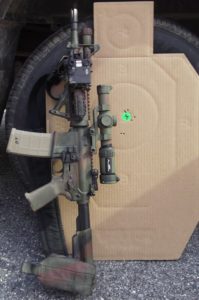 The weapon being used is a SIG M400 AR "Pistol" with a 1-7 twist, 11.5″ barrel and a Primary Arms 1-6x LPVO (low powered variable optic) with an ACSS reticle that requires the zeroing to be done at 100 meters for the bullet drop compensator (BDC) is to work correctly.
After the initial zero being done at 25 meters, I moved to the 100 meter range to adjust the point of impact. First impact with two rounds was 2.5 inches low and 1 inch left. The next two rounds were an inch right. The third, 3 shot group was an inch high, and the last three shots were centered in the one inch green dot and measured approximately 3/4 of an inch.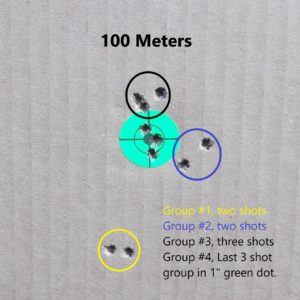 I have shot plenty of AR's which grouped well within two inches at 100 meters. I generally expect this kind of performance out of that platform in a quality build. Getting this kind of accuracy performance out of a short barreled AR, along with the numerous reports of the 77 grain OTM's terminal performance on combatant "Target Interdictees", makes selecting this ammo for a defensive weapon a "No Brainer" if you have an AR, and are able to get hold of some.
JCD
"Parata Vivere"-Live Prepared.