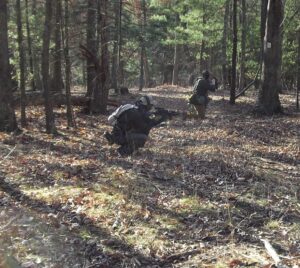 Below is an After Action Review from one of my Students in the November 7-8 Rural Buddy Team Essentials Course. The class was blessed with great weather and some great people in attendance. I know there is some networking being done as a result of people that met at the class, and that is one of the big advantages of meeting in this type of "Meat Space" environment.
Going into the RBTEC course, I wasn't exactly sure what to expect. My experience was mostly limited to indoor/stationary target shooting with a minimal amount of outdoor/movement shooting.
The initial section of the course began with JC teaching some of the core principles and fundamentals of small unit tactics. He was able to convey it in a way that was easily understandable for a non-MIL / LEO such as myself.
The next section consisted of fieldwork where we practiced the techniques for covering terrain while maintaining cover or concealment. This included low crawl, high crawl and burst (Rush). This may seem intuitive but there are subtleties that help you move more efficiently and safely.
From there we progressed to conducting a proper patrol. We worked in both two and four man teams. We covered proper hand signals and how to cross a potentially dangerous area.
Once we got deep into the woods, it honestly felt like I was doing a real life patrol in an uncertain environment. During the patrol, we got to experience a simulated ambush by the other members of the group. Although blanks were used, it had a very realistic feel to me.
This is especially true if you have never had a gun pointed in your direction and simultaneously heard a bang. This helped break the ice for training that occurred later that day.
During the initial patrol is when I got to first experience the vastness and scenery of Echo Valley Training Center. It is quite a venue and I only got to see a subset of it. I would really like to do future training and see the rest of the facility.
After returning to camp for lunch, we got the opportunity to have a more advanced training scenario. We got to compete against a civilian training group that has worked together for years under the tutelage of a former military infantry NCO.
The real interesting part was that we got to use a laser-based training
system that interfaces with real AR15s and blank 556 ammo. This took the overall experience to another level. We were able to face-off directly with their unit and compete in split squads too.  We got to experience more advanced ambush techniques by a well trained unit.
Although we were overwhelmed by them in a direct face-off, it was a great experience, something to build off and a ton of fun. We ran through ambush scenarios in both daytime and nighttime. During the final ambush, we got to be the aggressor and it felt great.  After the training exercise, we had dinner and called it a night. For me, being able to do some light camping was a bonus too.
The final day exercise was a live fire session in the "jungle lanes". This is where we got to apply the skills we learned earlier in the class. My training partner and myself ran as a two man buddy team. This involved utilizing the proper commands, moving and shooting.
This is a skill that is pretty difficult to perform when there is live fire, difficulty hearing and traversing woodlands terrain. In the realm of shooting, it is the most exciting thing that I have ever done.
It can be a little bit intimidating going into any firearms training course where you have to perform in front of experienced MIL / LEO. JC is a great instructor and very friendly guy which helped calm the nerves. I feel that having an instructor with the right temperament is more conducive
to learning. This is especially true for less experienced students, which results in getting more benefit out of the course.
I have done quite a bit of research looking for tactical classes from both local and national instructors. You will be hard pressed to find a course that teaches small unit tactics anywhere. If you live in the Mid-Atlantic states plus the surrounding ones, it is a no brainer from a travel standpoint.
Considering the novel content of the course and the quality of instruction, it is still worth traveling across country. Overall, I highly recommend the course and look forward to the opportunity to do the next level of the course.
Thanks for the kind words BW, I'm glad to have made your acquaintance. The next RBTEC is January 16-17, 2021 (that's right, the weekend before the inauguration). Hope to see you there.
JCD
"Parata Vivere"-Live Prepared.