Last week I showed you what my standard "Kit" looked like, and the inherent modularity that it has when setting it up for different tasks (WARNING- This post has some overlap with last week's post). The "Survival Load" was the "H-harness set up with the buttpack and other items attached. This "Survival Load" is specifically designed for exactly that, "Survival". It supplies minimal fighting capabilities, and is geared for surviving in a rural environment, and has tools and gear attached to do just that.
I also showed the "Battle Belt" set up I have, and how it can be switched out with the H-harness for certain types of scenarios. Although both the H-harness and "Battle Belt" can be integrated with the assault vest and body armor shown in the previous post. I wanted to show you were it really shines as part of my lightweight kit option, using some minimalist rigs from UW Gear.
Another aspect of this kit, is the type and height location of the holster. I have had and used drop leg holsters since approximately 1993. That being said, I am not a fan. I have a number of the high end drop holsters out there, and generally decide against them, especially if there will be much walking involved. I usually go with some form of belt holster, whether a protective flap holster, or a hard shell like kydex or a Safariland.
Another part of the lightweight kit I use is a pair of lightweight, non-elastic, suspenders. The reason I wear the thin suspenders is to cut down on any chaffing to the shoulders. This is only possible, if the belt kit the suspenders are supporting is light enough to not weigh down on the suspenders significantly. As I will show, you have two options for how to wear them, attached to your pants belt, or attached to your gunbelt. The way I decide is whether I'm wearing the outer garment tucked in, or outside of my belt.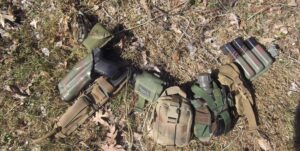 From left to right, my "Battle Belt" consists of a pair of 10X Binos, a first aid dressing pouch containing a dressing and a Silva compass, a Safariland "Mid-Ride" belt mount with a Safariland "Quick Locking System" to mount different holsters to the same platform. Next is a large knife, the one pictured is a Cold Steel "Survivalist" with a "Spec Ops sheath". This is followed by a Maxpedition "Rolly Polly" dump pouch, a Condor "Tear-away" IFAK pouch (Individual first aid kit), a canteen/accessory pouch (with canteen and cup), a Spec Ops "X4" mag pouch and a Safariland "Open top, Slim-line" 3 mag carrier. This rig can supply minimal ammo for a long gun, carriage and ammo for a handgun, a survival/fighting knife, first aid supplies, water and observation equipment.

Without a rifle mag and a canteen of water, this belt weighs three pounds more than my Duty belt at work. Comparing the weighed objects, my Duty belt only carries two pistol mags (9mm) and does not have an IFAK, fixed blade knife, binos or a FLIR viewer. In comparison, my "Battle Belt" does not carry cuffs, an ASP, pepper spray or a radio. When walking with just the "Battle Belt", it doesn't feel like much more than my usual daily work load.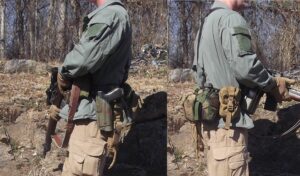 As said earlier, when I wear my outer garment (BDU top in this pic) on the outside of my pants, I attach the suspenders to the "Battle Belt" as shown above. As shown below, I attach the suspenders to my pants belt when I wear it with the outer garment tucked in, I then use standard belt keepers to attach the "Battle Belt" to the pants belt.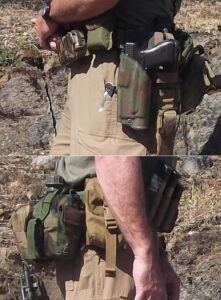 If I need to carry more than one extra rifle mag (in this instance for an M1A SOCOM), I will carry one of two rigs made by UW Gear. The
"Minuteman 6" ,chest rig
, carries six M1A or FAL 20 round mags, the
"Swamp Fox" carries four
. Both rigs are set up similar to the assault vests I showed in last week's post. Both have an IFAK on the left side, and an accessory pouch on the right. They also have a fixed blade knife mounted to the right shoulder.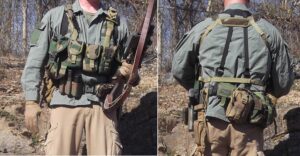 The "Minuteman Six" rig
The "Swamp Fox" rig.
The below pic shows how far the two rigs stick out front of the chest.
I am not generally a fan of chest rigs, but I must say, John from UW Gear, makes one that is minimalist, yet durable and comfortable. The four mag "Swamp Fox" rig is very comfortable, and gives you the ability to put it on and take off like a vest, which is my preferred method.
Now, on to holsters. Last post I recommended two types of holsters. One was the full flap UM-84 military holster with an internal thumb break, the second is the open top, synthetic molded holster either from Safariland for automatics, or Speed Beez for revolvers. Below shows how the thumb break is attached and is used on the UM-84, and how to position the flap behind the belt when you want quicker access to your pistol.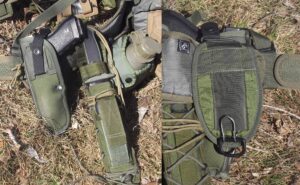 Another aspect to think about when it comes to holsters is the relative height to the belt line. A typical LE Duty Belt uses a mid-ride holster height. Most concealment types like paddle holsters, ride at the same height as the UM-84 flap holster. The Mid-ride type sets at the most easily accessible level, without being a thigh holster with leg strap. The flap holster is more out of the way for normal tasks, and if you're carrying a rifle as your primary weapon, this is probably the best location for it.

Having carried both a revolver and automatic as a duty weapon, I have found the mid-ride height is the best location for speed under most circumstances. If your speed of access and draw time for your pistol is a primary concern, I recommend you carry your primary pistol in the mid-ride location.

Above are some of my thoughts on gear set up, especially if you're trying to go minimalist on your pistol and rifle carry gear. These rigs can be integrated with the gear I talked about in the last post, and gives you many options for how to tailor your kit to suit your needs, ability and capability.
JCD
"Parata Vivere"-Live Prepared.