I have always been a fan of big knives. As a kid, I watched movies about Jim Bowie, Jeremiah Johnson and John Rambo (Yes I know it was fiction), and thought, "Man, there's not much you can't do with a large, heavy bladed knife in a survival situation.". Over the years, I've had many of my ideas about gear smashed against the "Rocky shores of reality", but for the most part, my thoughts on large, thick bladed, working knives has proven true.
This post is about large (8-10″) knives, not machete type blades, not medium 5-7″ knives and not the small 3-4″ knives. I plan on covering those types in another post. The specific blades covered in this post will be the 8″ Cold Steel "Survivalists", the 9″ Gerber "BMF" and the 10″ Ontario "Raider Bowie".
As I showed in my "THE MODULAR, MISSION ORIENTED, LOAD BEARING SYSTEM" post and the, "MY LIGHTWEIGHT KIT" post, I carry one of these three large knives on the H-harness "Survival Rig" belt part of the system, and also on the "Battle Belt" part of the lightweight kit. One of the reasons I carry it there and not on my ruck, is I still have it if I have to ditch my ruck. Another reason is the cutting tool I carry on my ruck is a tomahawk.
Over a year ago, I found out Cold Steel was selling this knife and decided to check it out. I am a huge fan of Cold Steel knives and knew this one would meet the expectations. I was not disappointed. The knife weighs 1lb. and the blade length of 8 inches is long enough to do everything needed, even when the task is batoning pieces of wood.
The high carbon steel and 90 degree spine make using it with a ferocium rod easy enough, and it also retains an edge quite well. It would be hard to beat the strength of this knife (see video above), considering it's monolithic construction. The down side to this type of steel grip is the need to wear gloves in extreme cold to avoid injury due to prolonged metal on skin contact.
Although I am a fan of Cold Steel's "Secure-ex" sheaths, due to their blade retention and ability to be set up for left or right hand draw. I usually use my Spec Ops "Combat Master" sheath. It is made for up to an 8″ blade, and fits the "Survivalist" perfectly. It is quick to draw and has a pocket for other survival related items shown in the above picture on the right.
Of the large knives being reviewed here, I have had this one the longest. Purchased in the early 90's, I think it cost around $140. Gerber hasn't sold them since about 1998, but I found some on Ebay when researching for this post. Although it has seen a lot of rough use, it's stainless steel blade still looks pretty good, and is as robust as a knife can be. At 1lb. 3ozs. and with a blade length of 9 inches,  this knife is not as heavy as it looks.
I know a lot of people don't like saws on the back of a knife blade. Having used those saws on a number of occasions, I can tell you they can come in handy, but are not a necessity. Like the blade edge, the teeth on that saw are a lot sharper than they appear. The sheath that came with the BMF is not only heavy duty, but has a number of well designed features.
The belt attachment is a well designed copy of the Bianchi UM-84 holster belt attachment, and is very easy to attach or detach your sheath, but It is not easy to get the blade out of the sheath quickly, due to the "No slop", snug fit. There is a sharpening steel built into the back of the bottom half of the sheath, and it has a pocket on the front which holds the included Silva compass.
When I bought this knife, I attached an Aitor JKII Skinner knife to the front strap of the sheath. That small Aitor blade has many uses of it's own. It can fill in the gaps a very large blade can not handle. It excels at tasks like animal gutting and skinning. The overall opinion of the BMF is great. When compared to the "Survivalist", the handle is definitely better when using it in cold weather, due to it's neoprene like construction. Except for length and the BMF saw, both blades are very similar in profile, and the BMF has a 90 degree spine and will light up a ferrocium rod nicely.
Some years back, a good friend of mine in Alaska told me that the best knife he'd ever used in the bush was his Ontario Raider Bowie. After hearing about it a number of times, I decided I'd get one to see what all the fuss was about. Needless to say, I got more than I paid for, and liked it so much, I bought one for my oldest Son.
The Raider has the typical profile we've come to expect on a large "Bowie" style blade. At 10 inches long and weighing in at 1lb. 9ozs., it has plenty of heft and length to perform most tasks that you would probably think needed to be relegated for a bigger blade. The handle material is a hard, very durable and comfortable rubber, and the sheath that comes with "Raiders" now is a secure, smooth drawing, plastic and cordura affair. The blade is carbon steel and again, has a 90 degree spine for use with a ferrocium rod.
The sheath is designed to be able to attach to Molle compatible systems, or just to a regular belt. All in all, the "Raider" is one of the best "Bang for the buck" large knives out there. Bergmann, (check out his channel) my Alaska Friend, swears by his and he has been using it steady for a decade in the Alaskan bush. That pretty much tells you everything you need to know about it's durability.
All three of these knives have proven durable and very useful in a woodland environment. I have used them a lot and would trust my survival tasks to any one of them. They say, "Bigger is not necessarily better.", but sometimes, it actually is.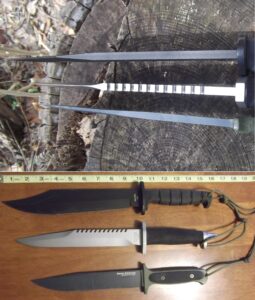 A closing thought for you. Besides the practical wilderness survival aspects of these knives, if you had to protect yourself with a blade, would want anything shorter than it absolutely had to be? Also, keep in mind, a knife doesn't run out of ammo or jam (unless it's stuck on a rib).
JCD
"Parata Vivere"-Live Prepared