Having the ability and means to accurately shoot at night with NOD's (Night Optical Device), whether it's an IR laser and goggles, or a dedicated night vision scope, is a force multiplier without peer. This capability can give the individual or small group, the ability to take on a far larger, non NOD equipped, force, and defend an area that would otherwise be far more difficult, and require "Old School" items, like illumination flares to observe the enemy's movements.
Although it's not a bad idea to have different types of flares (white illumination and colored) available, the Survivalist defending a given area will be better off, if the first clue the enemy has to their presence, is an accurate volley of shots into their force by NOD equipped Survivalists that know how to use their equipment.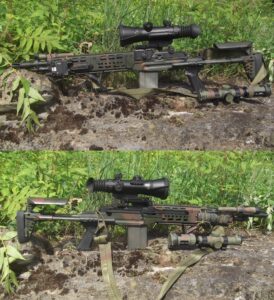 Although I have owned at least one pair of night vision goggles since approximately 1992, I have never owned a dedicated night vision scope till the beginning of this year. A good friend of mine, showed me a scope that he had purchased from AGM, and after looking it over, I realized that I should probably get on this bandwagon, seeing some of the different types of attacks that have been taking place in the last year and a half.
I ended up purchasing an AGM Wolverine- 4 NL3. This optic is a 4 power, Generation 2+ night vision scope, uses one CR123A battery for power and comes with an attachable IR illuminator (not required for use). It has a quick detach mount that is easy to use, and solidly locks in place, once you've made the proper tension adjustments.
Although the screen is green, it uses a red mil-dot reticle that is adjustable for brightness, and all the focus and contrast adjustments are positive and easy to use. If you keep the Objective lens cap in place, you can check it before use in a lit room or outside. Zeroing the optic at night was made easier using a Steiner eOptics Laser Devices DBAL-I2 red/IR laser, which had already been zeroed with the daylight optic, a Primary Arms 1-6X ACSS on Leupold Quick Release rings.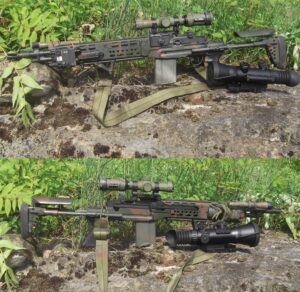 Zeroing took place at 100 meters, using white butcher block paper as a backdrop to a cardboard IPSC target. A total of five groups were required for the desired zero, with 13 rounds expended. The ammo used for the zeroing, was standard 145gr. Wolf ball. Normally this ammo groups around 2" out of the SAI SOCOM M1A through a daylight optic.
The SOCOM in question, has an early SAGE EBR stock that I originally put on the rifle in 2004. The mount used is a Sadlak M14 EBR Aluminum mount, made specifically for use with the Sage EBR stock. One of the reasons I decided to use this rifle setup for mounting my Wolverine-4, was the easily adjustable cheekpiece height and length of pull.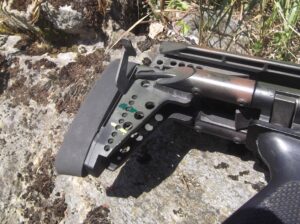 As anyone who has used an AN/PVS-4 NV scope in the military can attest, night vision scopes are notorious for requiring a very high cheek/chin/jaw weld, if you can actually make contact with the stock at all during scope use. Using this stock/rifle combination, negated those issues.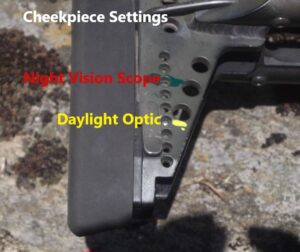 The original locking collar and propriety muzzle brake used on the SOCOM was replaced back in 2010 by a "Delta P Design" version, which gave me the threads needed to attach a Vortex flash hider. Using a standard SOCOM break would have been a "non-starter", as it's notorious for a fireball during the day, let alone at night.
The zeroing went well. As said earlier, it took 13 rounds to zero it at 100 meters. The elevation and windage knobs were easy to use and the clicks could be heard and felt. The orange dots on the silhouette are 2 inches in diameter. When I did my part, and felt good about the shots, I was grouping in the 2 ½ to 3 inch range for 3 shots. The Wolf ball did not produce too much in the way of flash, and it was easy to stay on target and keep it under observation throughout the shooting.
While we were shooting, my shooting partner commented that he was surprised how low the flash image was through his PVS-14, considering it was cheap ball ammo. He was even more surprised when we looked at the group sizes the Wolf ball was producing, with the Wolverine, at 100 meters.
Weight of the Wolverine is 2lbs. 13ozs., according to my scale. That might sound heavy, but once again, if you have experience with a Mil PVS-4, you'd be happy for the reduced weight, as a PVS-4 weighs around 4 pounds.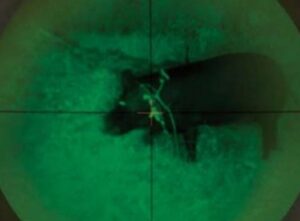 Although it says it is Gen 2+, the resolution is listed at 45-51 lp/mm, which puts it in the same category as Gen 3 NOD's I've used. The clarity of the image was very good, especially considering we had no moon illum. to speak of (It hadn't come up yet), and I did not use the IR illuminator during the zero process. One of the things I really liked is the adjustable reticle brightness. It is a red "Mil-Dot" type of reticle, and can be adjusted down to almost no red whatsoever if desired.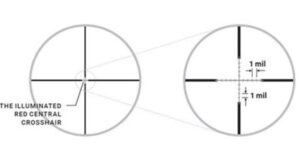 I know a lot of you might be fans of the cheaper ($700-$900) digital night vision scopes out there, but there is one thing I can't get on board with, concerning those kinds of scopes, whether it's cheap or not. They have the ability to Wi-Fi the image to your phone, If it can send an image to your phone, who else can pull up that image on equipment meant to find stuff like that on the battle field. This scope would be considered an "Analog" model, and for defensive use, and that's all I want and need.
JCD,
"Parata Vivere"-Live Prepared.