DRONES
For years now, U.S. Administrations have been using the "Easy Button" of foreign policy, by using drones to "Take out the Trash". This "Trash" could be anyone the Administration deems is an "Enemy Combatant" (keep this in mind for later in the post). Anyone who says they are unaware of this oft used technique, obviously has a serious oxygen deficiency, due to their head being so far up their "4th point of contact", that their body shape resembles a number "9".
Those who make the determination that a "Target" (they don't look at them as human, or they would not be so cavalier and callous with their decisions) needs elimination, obviously wants to reap the benefits of eliminating a problem, without the reality and risk of that "Problem" being taken on by the "Boots on the Ground", who not only sport a "MK 1 Eyeball", but have the ability to decide against a violent course of action, for whatever reasons could be imagined.
Anyone who has served in a Long Range Surveillance Unit, whether a LRS-D or LRS-C, can tell you the merits of having a person looking at the target. The LRS has now been replaced by drones and intel analysts. A LRS man can tell you why "Boots on the Ground" make a difference, whether due to seeing something a drone cannot from any of its angles, or realizing that the target is putting on a "Show" for the "Audience", because the target made a subtle mistake in the "Performance".
I know from personal experience in Iraq, that if what the bad guys are doing, appears to be "Too Easy" to target, you are being set up for something that could have monumental repercussions after the fact. I was fortunate that my "Gut Feeling" (Training, Experience and Divine Guidance), made me realize it was too easy, and we did not respond the way the enemy wanted us to.
As we see now, the drone strike that was carried out against "ISIS-K" (Sounds like a breakfast cereal for wanna-be tyrants), was not just a failure in targeting, but the murder of at least ten innocent civilians, seven of which were children. Knowing how reporting goes, you can probably double the number to give a more accurate figure.
Will those responsible be held accountable? Nope. Not unless there is someone the Admin is targeting for a "Scapegoat" trophy, because it was "Their turn". Regardless of the military personnel involved, this decision was made from the White House, and a "Murder charge" is the only thing that will suffice, just like if it had been done in Chicago. Mark my words, if we don't start holding those making these decisions accountable in foreign lands, they will start doing it here with the impunity they use "Over there".
TREASON
As a non-violent, criminal charge, nothing is more serious than "Treason" in the United States. Although the law says a person convicted of Treason can be sentenced to as little as five years of confinement, we all know many of those charged with it have received the death penalty, and rightly so. Although Constitutionally, it says we have to be "At War" with the Nation that receives the benefits the "Turn Coat" provided, in reality convictions for Treason and implementation of the Death Penalty have been levied against people like the Rosenbergs, for giving info and aid to the USSR. Like China today, we were not officially at war with the USSR at the time this conviction took place, but they were the enemy, none the less.
Regardless of whether the SecDef knew about General Milley's calls to his Chinese counterpart, if Milley said he would warn the Chinese if the U.S. was going to attack, he is guilty of Treason, period, end of story! An Officer has a duty not to follow an illegal order. Either he was told to advise his Chinese General counterpart that he would warn him of an attack, which is an illegal order to follow, or he decided to do that part on his own. Either way, that falls under "giving aid and comfort to the enemy", especially when you consider that he knew President Trump was not involved in that decision making process.
If true, Milley advising those Pentagon Staff, who would actually be involved in the decision/implementation of a nuclear strike (Milley would not be), to send everything through him, was at a minimum, a breach of important protocol. That protocol is in place for a number of reasons, chiefly among them for efficient and quick implementation of the steps needed to make it happen, since time could very well be of the essence.
Speaking of "Treason and Enemies", the Taliban has been a declared enemy for 20 years. Once again, at a minimum, Biden (in the end, like the drone strike, it was his call) elevated a group of misfit guerrillas in man dresses to that of a legitimate Regional power, by giving them tens of billions of dollars of high tech military hardware and actual cash.
Leaving it behind, without destroying it in place, was not only an oversight, it was a crime. That crime was also committed by the General Officers who were part of those decisions. You and I can't own a fully automatic firearm without paying an exorbitant amount of money on a tax (for the "privilege"), and an "Anal Probe" background check by the BATFags, but this senile, child sniffer gives a sworn enemy of the U.S. (by their own declaration) not only hundreds of thousands of fully automatic firearms, but night fighting gear, armored vehicles, combat aircraft, drones and other hardware we don't even know about because of its super sensitive nature.
At the same time, this geriatric, Chinese loving, National extortionist (remember the Ukraine), puts up a murdering, former BATFag, freedom hater as his nominee for the new BATFag-in-Chief. Luckily enough there was enough of an outcry from firearms and freedom lovers to stop the nomination from going through to appointment, but the overall irony of the A-Stan debacle, combined with the "Horse-teeth" nomination is telling.
Keep in mind, the Pedo version of "50 First Dates", along with his entire Administration, wants to ban all your guns. As has been shown in many Countries which have no 2nd Amendment, but do have tyrants using the Chinese virus as their excuse, large scale firearms ownership by the population could have kept these people from being trampled by their "Democratic" governments. Hell, they are still stepping up, even though they are not armed, which says something.
THE VAXX
Now, "Premier Gaf-o-matic" wants to not only distract and divide Americans even more, by ostracizing those who choose not to be "Vaccinated". I put that in quotes because it isn't a Vaccine. It has none of the traits of a vaccine, and it has all of the traits of a "Means to an End". That "End" is Control. If we weren't so heavily armed in the U.S. right now, we'd be in the same boat as Australia.
As if we didn't need anything more polarizing than what we endured from the Communist, race baiting, rioters during President Trump's term and the election theft at the end, now, we have another stigma to be concerned with. Biden says the patience of the "Vaccinated" is wearing thin with the "Unvaccinated", and he needs to protect the "Vaxxed" from the "Unvaxxed" by removing the "Unvaxxed" from their jobs.
Obviously, as NYC has shown, this is just an initial step. Eventually, he/they will want us removed from society in general.  I think the only thing wearing thin with the "Vaxxed" is probably their immunity to common health threats… but I'm no a "Doctor" so…… I'm probably right LOL.
What's next, "Camps" for the "Unvaxxed" to be monitored in? A special transport train with restraint devices maybe? Maybe, like what happened to the Aid Worker and those children, we will get "Droned" secretly moving from one safe house to another, because the "Actionable intelligence" was "Righteous". It's way too easy for them to do it, and they are trying to set us up as being the "Enemy", not "Human", by how they are referring to us now. Do you feel that? That's their noose tightening around our throats. The decisions you make can echo into eternity, but only if the noise from that decision is loud enough to be heard by the intended recipient.
I will probably lose my job before the end of the year. If it happens, it's because I have advised my employer that I will not be vaccinated, and, unfortunately, I fall under the group Biden said has to be vaccinated. Come what may, I have made peace with that decision, and understand this is a time for standing by my Beliefs, Convictions and my understanding of what this situation is all about. I will not quietly quit; they will have to fire me.
I know a number of people who have gotten vaccinated. Although at least 75% of those I know have had some moderate to severe symptoms from the "Vaccine" (A 19 yr old and a 52 yr old now have a permanent heart condition), it's still reported as "Rare". This is how I know it's BS. I haven't given any of them grief for making that choice, (they are adults, and it was their choice to make, after all) but I know the majority, symptoms or not, now wish they hadn't gotten it, and I don't think we've seen anything yet, compared to what is coming for them.
I will end this post with a quote from, of all places, the video game "Bioshock", which my Wife likes to play. The quote is, "A man chooses, a Slave obeys.". My question to you is this, "Are you a Man or a Slave? We will find out soon, who is who, and I believe their will be many surprises along the way. Till then, I am one of the Great Unvaxxed", and will stand on my feet, not serve on my knees. I will patiently wait by the fire for their final decisions….then I will make mine.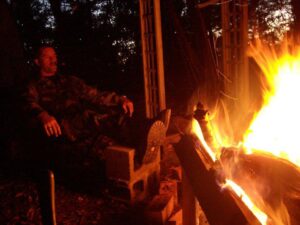 JCD,
"Parata Vivere"- Live Prepared.