I was delivering some eggs to friends from our small Bible study group yesterday. We were enjoying a beer on their patio in the unusual warm weather of November in Northeast Pennsylvania when one of the two asked me, "did you know that there was a QFS Block Chain Encrypted watermark Code put on the official blank ballot forms sent to the states for printing?"
My friend went on to explain and quote an article posted by James Fetzer titled, A Trump/USPS Blockchain Sting Will Rescue the Election . When the recounts happen in states with less than 1% separation between Joe Biden and President Donald Trump, it will be revealed to the public of Trumps, DHS, and USPS 'sleight of hand'. Well in my minds eye at the time, I poo-pooed it as there is no way that this could be pulled off without folks in the swamp not knowing about the procedure. Well maybe my initial denial was wrong.
This thought of a QFS block chain encrypted watermark code kept gnawing at me throughout Friday after my visit with my friends into this morning. So, I decided to take a peek at this theory.
Well low and behold, there is a lot of noise on the interwize about it. The first link I clicked on Youtube came up with this message,
https://www.youtube.com/watch?v=watch&feature=youtu.be&v=MYHj6vn5lJw&app=desktop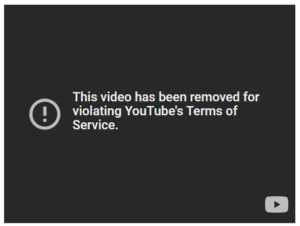 Okay now my curiosity being perked, I searched even farther, and I found this video,
If this is true, and I encourage everyone to do their own research, Trump is wise to keep this close to his vest so more and more states are forced to recount the vote.
The last bit of irony to this whole story is that it is taking place around Guy Fawkes Day.
Look into and report back what you find and/or think.
Freedom Through Self-Reliance ™