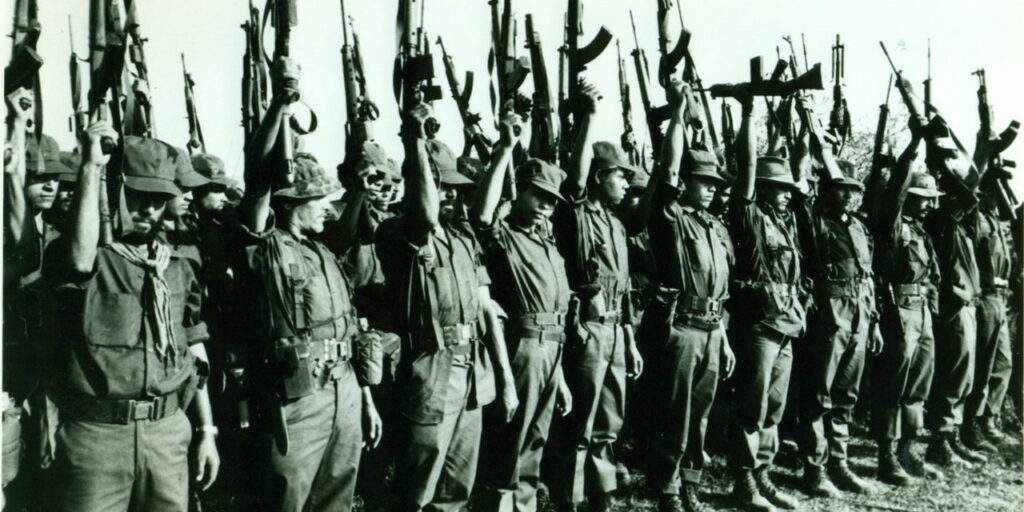 All of the episodes can be found here on Podbean.
---
January 2020
Episode I:  NC Scout discusses parallels between the Chechen resistance against the Russian Army to Appalachian folk and the potential future fight against a standing army in the Appalachian region.
Episode II:  NC Scout discusses recent events and covers the foundations of preparedness communications with the license free options, the basics of amateur radio, and the equipment needed to get going.
Episode III:  NC Scout discusses the continuing deteriorating situation in Iraq and Hezbollah's reach inside the US. Next we cover the concept of the guerrilla sniper, building off concepts Matt Bracken has talked about recently in Virginia as well as a better small unit model for Guerrillas.
Episode IV:  NC Scout discusses the insanity that is the Leftist reaction to the very justified killing of Iranian General Soleimani and traces the background of the Obama Administration's support of Hezbollah. Tactical communications and in particular, a basic rundown of digital handheld radio options are discussed. Finally, a couple of questions from a reader are answered along with a commentary on the UN Disarmament position listed for the NYC HQ.
Episode V:  NC Scout discusses the logistics information from the VCDL concerning the 20 January protest as well as the latest from Project Veritas capturing a senior Bernie Sanders campaign staffer claiming that all Trump supporters will go to gulag camps for re-education. After that, notes on leadership in preparedness groups and voluntary organizations is discussed based on personal examples.
Episode VI: NC Scout explains why the Richmond rally is not a victory for anyone and is likely counter-productive in the long run. What will happen when those laws are still passed? Then he answers a detailed question from a reader about different weapon setups for different roles and a bit about JS8Call.
Episode VII: NC Scout discusses a piece from Jacobite Magazine illustrating organizational notes from the Left, then discusses the story of Radio Venceremos in El Salvador's civil war and how this would look at the local level for prospective guerrillas in other regions. Unity is strength.
Episode VIII: NC Scout discusses what we currently know about the Wuhan virus, items of interest from Shot Show, and a lengthy discussion on the AK. Music: Cavalera Conspiracy "Warlord" Sepultura "Chaos AD" Sponsors: Palmetto State Armory Ammo.com Ranger Up Gunmag Warehouse
February 2020
Episode IX: Returning after a brief hiatus to focus on training, NC Scout covers the cure he's found to the Corona Virus, why General Ripper wasn't wrong, Rosenburg 2.0: Harvard's BioChem Department Chair spying for the Chinese, and a great reader question regarding the Kalashnikov.
Episode X: NC Scout discusses his thoughts on the 'common man' approach to gear and talks about what makes up his everyday carry.
March 2020
Episode XI: NC Scout discusses the latest on Corona, a long segment on localism concerns & off grid cooking for communities, and answers an important question from a reader on urban prepping
Episode XII: I'm joined by Navy SEAL and best selling author Matt Bracken for a couple of hours, discussing the ongoing issues with Covid -19 and what a societal regression might look like. Other topics covered include sustainable living, leadership among small groups, sanitation, and what would happen in the long term when efforts at internal stability operations fail. Finally, we have a short discussion on his inspiration for writing, how his characters are created, and what sets his novels apart from others in the genre.
Episode XIII: I cover today's stock market slide, COVID-19's continuing impact and why you shouldn't panic but rather charlie mike- continue movement. Then we move into recruiting new members for preparedness groups in a more effective way and answer some reader questions.
Episode XIV: NC Scout is joined by Matt Robertson of Everyday Marksman. We discuss approaches to preparedness as civilians versus when we were in the military, individual stories of survival, the training market and how a civilian should approach their training paradigms.
Episode XV: "Who capitalizes on chaos?" A large number of intersecting factors are painting a disturbing picture for the second, third, and even fourth order effects for the near and long term future. AntiFa in NC has given us a preview of things to come when civil unrest begins to become more widespread. The picture is of the flag at the NC Governor's Mansion, ripped down and burned.
Episode XVI: I'm joined by MechMedic, former Marine and current combat medic, to talk about primary treatment of battlefield trauma and what actually goes in an Individual First Aid Kit, or IFAK.
Episode XVII: I discuss the continuing fallout from the Chinese COVID-19 virus on American society and the apparent vanishing civil liberties while asking what might come next.
April 2020
Episode XVIII: I'm back on the air after a short hiatus with a few peeks behind the curtain here at AP and a long interview with my friend and bladesmith Mark Cutright on survival knives, survival knowledge, and just good conversation.
Episode XIX: I discuss the continuing silliness that is the so-called lockdowns and the destruction to the economy and the worthless counterprotesting "health care workers" to the hard working Americans just wanting to get back to work and stop the infringement on literally every right we recognize as Americans. I also talk about the realities of bartering versus prepper-nonsense I've seen elsewhere.
June 2020
Episode XX: NC Scout discusses the ongoing civil unrest and what the larger picture really is. One of the indicators is the electronic warfare that's been conducted against both the Chicago and NY Police Department communications systems. Last, a real-world community defense scenario is discussed. They're coming to you, rural America.
Episode XXI: NC Scout discusses the ongoing civil unrest and the deep state actors in the military who're behind the communists in their revolution. He also discusses the need for night vision and setting a weapon up for using it.
Episode XXII: I discuss the Capitol Hill Autonomous Zone, also known as CHAZ, proving anarchists of any hyphen are morons and why you should be not just armed but well trained. I also discuss India vs. China and China's moves on their entire region and why that matters,the real goal of defunding the localized police, how we're going to be framed as the new boogeyman for a Biden Presidency.
July 2020
Episode XXIII: NC Scout gives his take on the war being brought to your front door, the McCluskey incident and the real ambush they walked into, and finally, why using tracking and locator apps in a non-permissive environment is idiotic at best, along with anyone who advocates it.
August 2020
Episode XXIV: I discuss the umbrella of leftist organizations at work today and in a different way than you've probably understood them. Next I discuss the Go-To Carbine theory of use concerning the guerrilla. Last I discuss the state of the training industry and why so many great trainers out there give me hope for the future- and why it should you as well.
Episode XXV: In this episode I cover the blast in Beirut, the domestic connections between the Left and Hezbollah, more on the 'woke' state of the US military, some practical training notes on communications and more on non-tactical vehicle considerations.
Episode XXVI: I take questions from listeners ranging from secure email options, internet privacy, communications in an austere or non-permissive environment, a long discussion on getting started with the Kalashnikov, and finally, comments on the bumper music rotation.
Episode XXVII: I cover the underlying symbology and argument of Biden's speech at the DNC Convention and then cover questions from our readers as well as commentary from Matt Bracken. The loyalty of Generals and their staff to the Union, prioritizing basic preps, being a grey man in a non-permissive environment, and getting squared away in the S6: communications field.
September 2020
Episode XXVIII: I discuss the Kyle Rittenhouse and Jay Bishop incidents and how there's a real war going on out there. Next I discuss my thoughts on the Century Arms VSKA AK as used in my last Fighting Kalashnikov Course, as well as notes on footwork and fighting to your feet.
October 2020
Episode XXIX: Back on the air! I discuss the courses out West, the current goings on, why social media (all of them) are especially dangerous right now, and the need for localization. There is not some national-level answer that's coming. You have to do it.
November 2020
Episode XXX: I discuss the post-election goings on and how the curtain on the wizard has been pulled back for the world to see. They'll do what they're going to do, and so will we.
Episode XXXI: In this episode I discuss the fallacies of 'burner phones' and why no such thing actually exists. But that said, there absolutely is a way to communicate and even make phone calls under the nose of Big Brother, provided you follow the steps we discuss.
Episode XXXII: I'm live on the road recording a quick Happy Thanksgiving to the audience out there and teasing the plans for the coming year. A lot of big things are on tap!
Episode XXXIII: I cover a question from a reader concerning the practicality of clandestine communications devices that I described in Episode 31 and my fighting carbine setup.
Episode XXXIV: I discuss the General Flynn and McInerney interview with WVW, discuss questions from a reader regarding social media, photo and phone digital media, and cover how phones are tracked.
December 2020
Episode XXXV: I discuss the Revolver article posted on American Partisan from October detailing the social media mapping programs that are up and running now, originally designed to map insurgencies and managed by retired General and Biden supporter, Stanley McChrystal.
Episode XXXVI: I discuss the sabotage of the USS Bonhome Richard, the Leftist Daily Beast Writer Rick Wilson calling for Trump supporters to be 'humiliated', 'incarcerated' and to commit 'ritualistic suicide', and finally, answering questions from a reader on setting up a tablet for radio operations as well as serving as a clandestine communications device.
Episode XXXVII: Come and Take It! I cover the recent targeting of an Iranian nuclear scientist, a Norwegian's experiment in smart phone surveillance and going into detail about my Bugout Vehicle's Commo setup. CB is an incredibly versatile tool and one you should have in your truck.
Episode XXXVIII: I cover the installment of Biden as President and his 'speech' which is nothing more than a declaration of war on working Americans and why this is not the 1990s. We move into how my vehicle is setup and considerations to make for equipping support vehicles.
Episode XXXIX: Manchurian McConnell has declared Beijing Biden as the winner of the 2020 election, confirming that China has deep economic ties on both sides of the political aisle in the US. Manchurian McConnell's financial gains have been explicitly in the interest of the Chinese Communist Party. On top of that, the Secular Democrats of America are calling for re-education camps for Trump supporters. I then dive into the ATF's new plan under Beijing Biden to go after 80% lowers and further attempt to disarm the American populace, the most recent WikiLeaks dump and some notes on the Fighting Kalashnikov.
Episode XL: We start off with a short discussion on task and purpose behind the RTO Course and then explore some listeners' emails concerning current events.
Episode XLI: We start off with a short discussion on task and purpose behind the RTO Course and then explore some listeners' emails concerning current events.
Episode XLII: I dive into the aftermath of the Nashville bombing and what we know as a result from it, along with underscoring the need for personal communications. After the break I discuss the realities of the Chinese threat for potential military intervention.
January 2021
Episode XLIII: What comes of the big tech censorship? Nothing good (for them), but an awakening as well. By their hands your enemy will show you who they fear.
Episode XLIV: I cover listener questions on personal security, patterns of life, land line phones and rural property prospects.
Episode XLV: I cover getting your first HF radio station up and running, from the gear needed to how it all works and a quick antenna calculation for building a simple (and cheap!) dipole.
February 2021
Episode XLVI: A break from training! I cover overcoming the "woe is me" effect, a re-focusing on local networking, field listener questions and talk about the revelations regarding the in-securities of the Signal messaging app.
Episode XLVII: I sit down with MechMedic to discuss austere medicine for preppers, Guerrilla Hospitals, primitive methods for sanitation and basics of medical knowledge needed for groups.
Episode XLVIII: We're remembering the irreplaceable Rush Limbaugh. He's been an inspiration to so many, myself included and one of the reasons this podcast exists. May you go with the Lord and your torch shall be passed on to the next generation of firebrand American Patriots.
Sons of Liberty Episode I: Sons of Liberty Live is on the air! Tonight's topic is TC3 myths, weapons knowledge, night vision and a lot more, including learning how to do live streams. NSFW.
Sons of Liberty Episode II: Raw, unfiltered and unhinged. We'll be discussing more on setting up weapons for night vision, Kalashnikovs, and Crypto currency. You'll need the Podbean App to join in or you can catch it when I post it later tonight. NSFW.
March 2021
Episode XLIX: I detail the absurd claims by "Acting Capitol Police Chief" Yogananda Pittman that Right Wing Extremists plan to "blow up" the Capital. Next we discuss the Gab data breach and the technology behind Jigsaw, a counterinsurgency networking program headed up by General Stanley McChrystal. Finally, we briefly discuss my recommendation for cold weather boot and why.
Sons of Liberty Episode III: We discuss the vanishing SOTU, the "Right Wing Threat" at the Capitol, Communications and the good ol' Kalashnikov. NSFW.
Sons of Liberty Episode IV: We're joined by fellow American Partisan writer and owner of Mason Dixon Tactical, JC Dodge. We discuss everything from the 20 Republicans who supported new Attorney General Merrick Garland, survivalism and prepping over the years, and notes on a practical combat weapon setup.
Sons of Liberty Saint Patrick's Day LIVE (Episode V): Get ready lads because we're gonna keep it lit tonight. We'll be on the air discussing fine Irish whiskey and beer, takeaways from the Irish War of Independence, the Troubles and how they relate to today, and how Johnny Paratrooper is not a piece of barley corn.