The situation along the border between Turkey and Syria within the autonomous region of Kurdistan appears to be deteriorating. Now absent the threat of running afoul of the US, Turkey has plans on pushing the YPG, or People's Protection Units, of the Kurdish Peshmerga further from its southern region. The official Turkish stance considers the Kurds that inhabit the border region between it, Syria, Iraq and Iran to be terrorists.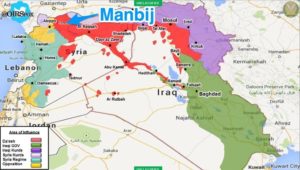 According to Yenisafak News, at least 400 have departed the city under the supervision of the Syrian Army. The Peshmerga requested assistance from the Syrian Army to prevent a preemptive attack by the Turkish government once the US withdrawal order went into effect.
"According to information, approximately 400 have left Manbij so far," the Syrian defence ministry said. Their departure was in line with an agreement "for the return of normal life to the area of northern Syria," it said.

The ministry showed online a video of dozens of vehicles travelling along an unmade road carrying armed terrorists, some waving the so-called flags of People's Protection Units (YPG) and its female counterpart the YPJ.
The whole situation is significant for a number of reasons, principally representing another example of the US making and later abandoning allies. The Kurds are a people with a long memory. After having trained and worked with them in northern Iraq, they were the only ones you could actually somewhat trust on a patrol. We likely will not be able to build bonds with them again. But with that said, it is important to understand that the region was (and is) home to a playground of hardcore leftists, which could potentially become a domestic rally cry for those products of Rojava. This is not a threat to be taken lightly.
This conflict could also be the prelude to a wider war. The Syrian Army finding itself on the side of the Peshmerga will trigger a war between it and Turkey. Iran has a heavy influence in Syria and will likely be drawn into the conflict as well. A scenario that does not play out well in the long term, along with potentially allowing a resurgence in the Islamic State. There is no easy answer but the consequences may end up becoming very real.
**********
2019 is getting off to a bang. What's your training program look like?