I will be the first to admit I enjoy nice things, knives included. I was a dedicated Al Mar and Benchmade fan for the better part of a decade before I even considered putting anything else in my pocket. I have expanded my horizons, but with the exception of the Kershaw Leek, still didn't consider most folders under three digits worth owning until now. While the Rat II cuts some corners, at under $40 this knife is hands down the best value per dollar of anything I own.
The Rat II has a 3" blade and a little over a 4" nylon handle. The blade is D2, in two flavors, satin or coated. I've seen others in AUS-8, another excellent steel. Sensibly, OKC went with a drop point and the grind on the edge is a reasonable angle, making the Rat II easy to sharpen and eminently usable. The coyote tan and black-coated blade looks sharp, and so far so good on the coating. I don't expect the coating to hold up permanently, every coated knife I've ever owned I scratched and chipped the coating…because like my guns they are hard use tools.
The most common complaint I saw was the Rat II not opening smoothly. I had no such problems and the handful of people I know with one, did not have such an issue. If it were the case, the hinge can be adjusted via a Torx screw. I was surprised to see anything other than simple Phillips head screws or pins, but the entire knife has actual Torx screws. The action was smooth, particularly after some gun oil went into it. OCK also went the extra mile with an ambidextrous thumb stud and a clip that has some decent heft, and can be adjusted on either side point down or point up. It's this attention to detail and quality where it matters that makes this knife a must own.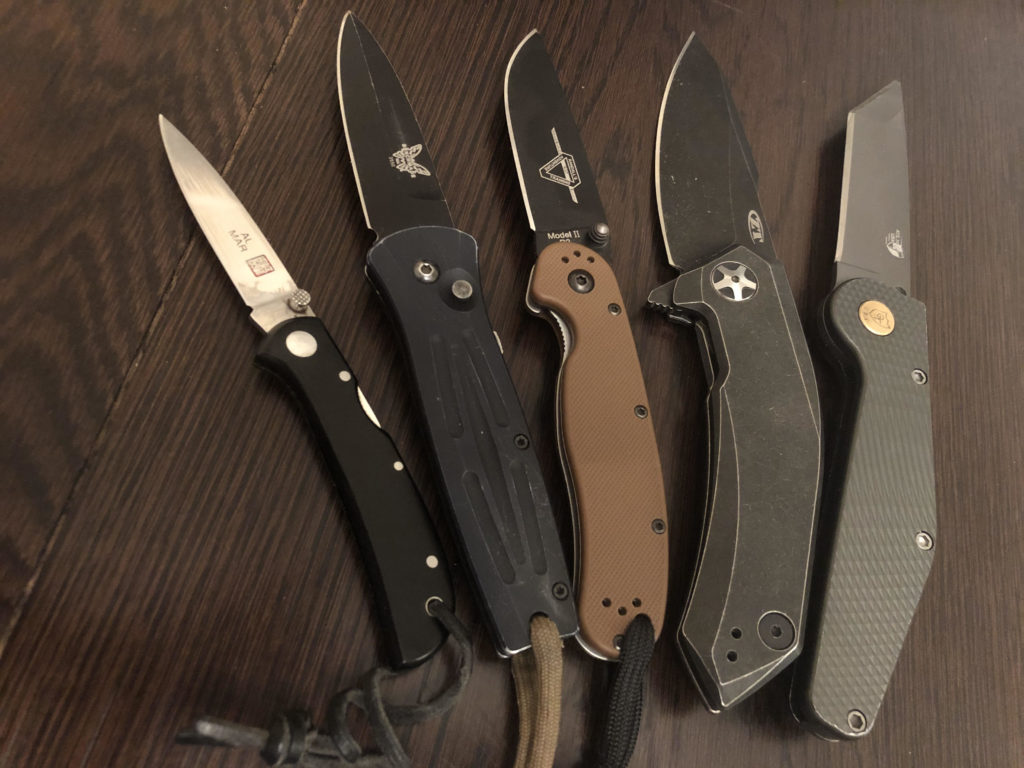 Pros:
Steel (AUS-8/D2)
Blade profile
Variety of handle and blade options
Smooth action
Construction
Cons:
Blade length (3")
Nylon handle
Made in Taiwan
The only complaint I have with the Rat II is the handle construction. While the full liner is more than adequate and the fit is excellent, the nylon leaves something to be desired. In my opinion G10 is vastly superior as a handle option, however I wouldn't expect it on a knife at this price point. Absent that, a more substantial texture on the handle would be welcome. On a personal note, I generally prefer larger knives and was hesitant at something only 3" long. For those looking for a something longer the Rat I is a little over a half inch larger than the Rat II. This is a personal preference, and to be honest I haven't missed it in 99% of the use I've gotten out of it. I haven't had an issue with cutting plastic banding, zip ties, wood, cardboard, paper, tape and keeping it sharp enough to shave with. I wouldn't hesitate to buy the Rat I given the quality of this knife. For those looking for a fixed blade at a similarly reasonable price, the RAT 7 is what you'll see me carrying if you're lucky enough to make it to one of Brushbeater's classes. For the money, the Rat II can't be beat if you need a hard-use knife you can beat up and replace if necessary. It's not the prettiest, it's not the most expensive, but it works and it works well.