Not counting the rubber ducky that came with my first VHF radio a BaoFeng UV-5B, I made my first three antennas. Leaving the coax out of the equation each antenna cost under $5- to build and about 1-hour of my time. I will share those three "home brew" antennas with you now.
Dipole
The simple dipole antenna was the very first antenna I built. It was so simple it was scary. Two pieces of single strand 12-gauge wire that were 19.25-inches in length each, a banana plug, coax, and an adapter for the radio/coax connection.  The wire you use can be any wire as long it is single strand solid core. If you use stranded, you will need supports which you do not need with single solid strand. Below is a picture of one I use on my Dakota Alarm. Using this antenna makes this alarm fully functional ½-mile away vs. the rubber duck it came with. I used this antenna at first to listen to the local club's repeater about 16-miles south of the redoubt.
Here is a great link to use to make any frequency dipole antenna put out by West Mountain Radio. There are others out there too just do a search on the interwize for Dipole Antenna Converter.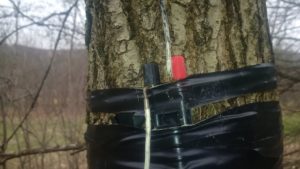 The parts you will need are,
Ground Plane
The second antenna I built was a 1/4 wave ground plane antenna. This antenna allowed me to toss some paracord up into a tree and hoist the antenna as high as I could. This antenna was a omnidirectional and all though it hit my clubs repeater about 16-miles south of the redoubt, the signal reports were only just okay. Using this antenna reception was outstanding. I received signals out to 60-miles away.
I now build a revised ground plane antenna that I got the idea from my friend NC Scout over at Brushbeater.com when I took his RTO class. Here is an article he wrote titled The Jungle Antenna. I have built several of these for friends who do not have an amateur radio license and just want to listen to QSO's. I carry one of these in my "get home bag". This antenna uses four, 19.25-inch long pieces of wire – Stranded or single solid strand. A banana connector along with the coax and appropriate connectors.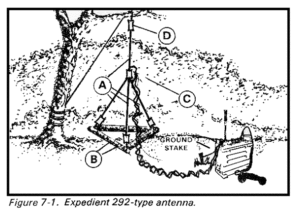 The parts you will need,
Moxon
I first got the idea to build a Moxon antenna from an article I read over at Brushbeater.com titled, DIY MOXON Antennas and LPI. Along with NC Scout's great article I used an article titled, KD6WD Moxon Antenna Project to design a Moxon antenna to meet my needs.
I originally used this antenna to reach a repeater about 33-miles north of the redoubt using my 5-watt BaoFeng radio with ease. I have taken the antenna on backpacking trips due to its minimum size and weight. The Antenna is a directional antenna which directs most of its TXing energy in the direction I want it to.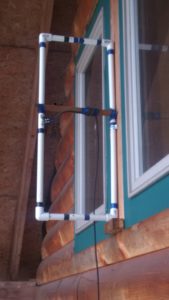 The parts you will need,
About 40-inches of wire, single stranded preferred
About 40-inches of ½-inch PVC pipe
Four ½-inch 90-degree PVC connectors
Electrical tape or wire ties
Connector that matches your radio antenna port to the PL 259 coax. With the BaoFeng radio I use this connector.
If I was to pick the best of the three it would be the Moxon. The Moxon turns all of the radio's 5-watts into one direction with ease rather than all of that energy going out 360 degrees.
In closing, there is no excuse now to not get on the air.
73 & God Bless.
Freedom Through Self-Reliance®