Having an ATV as part of your arsenal is a pretty big asset. Whether you're only concerned with using it as a utility rig for a farm or retreat or in a tactical environment, an ATV is nearly critical in a lot of jobs. Its mobility is a primary factor, being able to fit along tight trails while carrying support gear for whatever the mission requires- whether that's communications, medical support, or fire support. And while there's a lot of great options on the market, I think this year's Yamaha Kodiak 700 is on the top of the heap.
In Afghanistan we had a couple of Polaris MV7s, which were a 'militarized' Polaris Sportsman 700 with a heavier suspension and a roll bar. That roll bar came in handy for mounting two WALK (Warrior Aid & Litter Kit) bags, two SMAW-Ds and a SATCOM antenna. While it wasn't a bad vehicle by any means, it also wasn't well suited to its task, all things considered. It was too heavy for what it was, giving up much in the way of maneuverability and speed, which were the two primary reasons for even having it. It didn't lack low end torque though, and did a fine job of hauling support gear and carrying a 240 in a pintle mount.  That said though it made life a lot easier for us, not having to hump that stuff on our backs.
Growing up I had two Hondas- a old Fourtrax 300 4×4 and a newer Rancher 420, the latter I still have. That old Fourtrax was the gold standard in reliability, always firing up no matter how badly it had been neglected. Those machines really cemented Honda's reputation in the ATV market for durability and its one that still sells their quads today. While it was great in its time, looking back, it was underpowered and rigid, but its bombproof legend still lives on where you can find one. I sold it to buy the Rancher and in some ways I wish I had kept it. The Rancher is a good enough rig also, but its anemic compared to some of the large bore offerings on the market today.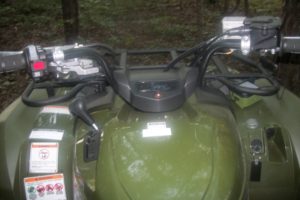 I was looking for a rig that had more power than the 420, kept the bells and whistles to a minimum, and offered the most bang for the buck. Honda's Rincon along with Kawasaki and Suzuki was too expensive for what it is, Can Am and Polaris are hands down not as reliable, and there's really no other dealer support for another brand where I live. That lead me to looking at Yamaha and specifically, its Kodiak lineup. I was familiar with their Grizzly 700, which is an impressive vehicle but it had a few drawbacks. Like most big bores, its physically large both in frame and body, making the tight trails in the backwoods of central NC kinda tough. Plus, like its competing brands, it carried a high price tag for features I really don't care about, like power steering and a speedometer.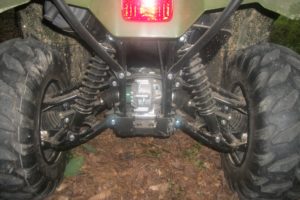 Yamaha realized that many were looking for a simple rig like this a couple of years back. That lead to them resurrecting the Kodiak name. Its got the same powertrain as the Grizzly on a smaller body, absent the differential lock, digital gauges and other extras and with a lower price point by a couple thousand dollars. It even has a mechanical 4WD selector lever on the left side of the handle bar- they've kept the electronics to a minimum. This was the rig for me. The best thing about that old Honda 300 was that it had no bells and whistles- start it up and go. It was simple to work on and intuitive to ride. When I first spotted this rig and took it for a test ride it felt similar, albeit with a hell of a lot more power. The independent rear suspension handles extremely well on the trails around here, with a lot of flex but plenty of response. The grip that it has is something that's missing from the older Honda 420 and its a nice feeling.
Speaking to its powertrain, Yamaha has an automatic transmission with a high and low range. The low end provides an impressive amount of torque just from the feel. The high range is smooth, and it shifts effortlessly. I am impressed by the responsiveness while yet still feeling nimble handling on any kind of terrain. I got it out on a closed road and had a friend clock me – I got it up to a little over 60, and it would probably do better than that. Interestingly enough its better on fuel than the older Honda despite the larger displacement. That 4.75 gallon tank seems to last no matter how much I get into it.
There's really only a couple of improves I'd add- the first is an alternate starter. Whether its a kick start or a pull start, it looks like all the big-bore machines have dropped it off the modern designs. Its something that you can live without, but it'd give a sense of security. The other thing, which is more a suggestion to Yamaha than anything, is to offer a version of the Kodiak 700 with a differential lock. The smaller 450 does, but for whatever reason its absent on its big brother.
Its a stripped down rig that checks all my boxes. In the near future its going to get some mission-oriented upgrades, including an infrared light bar and a communications setup for use in the field. The rear rack already has a mount for an antenna, so I'm excited for how this one is coming together.