It appears that Goodyear tire has taken a knee to the wok society specifically their 40,000 employees around the United States.
During a diversity training session for employees the training out lined what was zero tolerance.
                                      Zero Tolerance
| | |
| --- | --- |
| Acceptable | Unacceptable |
| Black Lives Matter (BLM) | Blue Lives Matter |
| Lesbian, Gay, Bisexual | All lives Matter |
| Transgender Pride (LGBT) | MAGA Attire |
| | Political Affiliated Slogans or Material |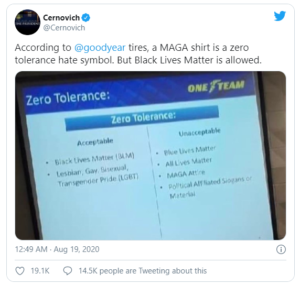 As reported by Breitbart News;
"A report from WIBW says the "employee who took the photo of the slide, it was presented at the Topeka plant by an area manager and says the slide came from their corporate office out of Akron, Ohio."

The employee, who wanted to remain anonymous over job concerns, provided a statement to WIBW:

'If someone wants to wear a BLM shirt in here, then cool. I'm not going to get offended about it. But at the same time, if someone's not going to be able to wear something that is politically based, even in the farthest stretch of the imagination, that's discriminatory. If we're talking about equality, then it needs to be equality. If not, it's discrimination'."
Goodyear spokeswoman Melissa Monaco, posted the following to the release of the above screen shot,
Well now, there you go another company that has gotten in line to the wok culture. Obviously, getting ready for The Great Reset coming to the world in 2021.
Freedom Through Self- reliance ™
Post Scriptum August 21, 2020 – Today, Goodyear announced that they are reversing part of their Zero Tolerance policy to allow employees to wear Blue Lives Matter clothing at work. Goodyear CEO and President Rich Kramer announced,
"I deeply regret the impression it has created and want to clarify Goodyear's position," Kramer said.

"First, to be clear, Goodyear does not endorse any political organization, party or candidate. We have a longstanding corporate policy that asks associates to refrain from workplace expressions in support of any candidate or political party.

"Second, Goodyear strongly supports our law enforcement partners and deeply appreciates all they do to put their lives on the line each and every day for our communities. We have proudly supplied tires to police and fire personnel for more than 100 years and that relationship is foundational to our company.

"We have clarified our policy to make it clear associates can express support for law enforcement through apparel at Goodyear facilities."