The Micro Roni Advanced Kit from CAA USA is the premier pistol carbine conversion kit that promises to revolutionize the way you use your gun. The compact Micro Roni chassis has a unique, efficient design that easily converts your standard 9mm pistol into a mid-range carbine weapon. Once converted, you'll be able to shoot your 9mm at a further distance with greater accuracy, all while remaining surprisingly easy to use.
This conversion kit is compatible with Generation 3 and 4 Glocks, and all 6 models (17, 22, and 31 as well as 19, 23, and 32) for ultimate flexibility. CAA also manufactures versions of the Micro Roni that work with pistols from Sig Sauer and Smith & Wesson.
Micro Roni Features
The compact Micro Roni features a sturdy right-folding stock for easy carrying, which takes the length from 22.3in/56.7cm down to 13.7in/34.8cm. The converter is 2.5in/6.5cm wide and 5.7in/14.5in tall, and is made from aluminum with a body of high-impact and high-density polymer that will stand up to wear, tear, and extended usage. It's lightweight and transportable yet sturdy at the same time.
The chassis has a full-length Picatinny rail on the top for mounting optics, and two extra Picatinny rails run along each side of the Micro Roni as space to add any additional accessories to enhance performance. The vertical front grip, which is a defining feature of the device (and the reason for its NFA designation—more on that later), is especially user-friendly. The grip features a flip-up safety mechanism (ambidextrous) to cover the trigger and space for a spare magazine for fast ammo reloading. It's also worth mentioning that the texture on the front grip matches that of the Glock handle, a nice touch.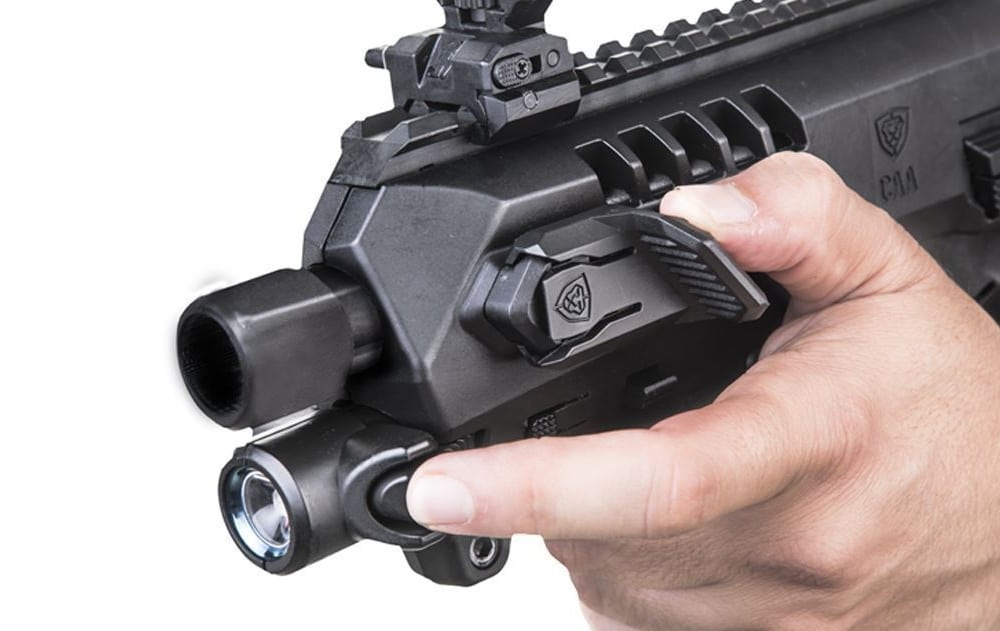 Micro Roni Add-Ons
One of the cool things about the Micro Roni is how it can be customized with an array of high-quality accessories to up its efficiency and accuracy. Although the chassis comes standard with small thumb rests, the side Picatinny rails can be utilized to add larger, serrated thumb rests to improve grip support and recoil control. On the top Picatinny rail, flip-up iron sights or a red dot sight can be attached by simply loosening some screws and sliding the sights on—the kit comes with a small Allen wrench for this purpose.
Owners can also choose to add a front integral tactical flashlight to maximize accuracy in low-light situations. This flashlight can be activated from the sides or the back, a well-thought-out detail for those of us who like to do things a certain way. At the base of the Micro Roni, there is also a quick detach sling swivel on which to attach an adjustable nylon sling.
How It Works
Despite being fairly high-tech in its design, the Micro Roni remains an easy to use piece of tactical equipment.
Installing your pistol into the compact Micro Roni is simple:
Slide the Glock into the chassis and push it into place until it clicks.
Push it forward until it locks into place—watch for the green indicator to be sure it's secure
Unlike some other conversion kits, the Micro Roni's down-and-in locking mechanism requires no pistol disassembly, which means you can save time and complication.
To take your pistol out, click a button on the rear of the converter to open the hinge, then push another latch on the front and pull the pistol back and out in a reverse of the movement used to install it.
If this sounds complicated, don't worry; it's a quick and intuitive process. There are also tons of great videos produced by CAA that are available on Youtube to help with the setup.
Newer Generation Micro Roni Updates
As a functional update from previous models, the device's shroud itself now moves forward and backward depending on which Glock you put in. This creates a noticeably secure fit that accommodates all 6 Glock models.
With this pistol carbine conversion kit, your standard Glock becomes like a whole new piece of weaponry with improved accuracy. The Micro Roni's longer sight radius and advanced stability design make it easier to hit targets more frequently and more accurately. With the shoulder rest, mid-length body, and foregrip, there's also just more surface on the firearm to hold onto, meaning your shots will be more secure and in control—and more fun.
It's worth noting that it probably will take a bit of practice to get the hang of shooting with the Micro Roni on your pistol since anything with different dimensions and weight will slightly alter the shooting experience. However, after some modifications to the alignment of the sights and your stance, you should be able to improve your long-range accuracy significantly due to the extra stability that comes with a longer firearm.
NFA Status
The Micro Roni is an NFA Title II ("Class 3") item, meaning it's subject to additional review by the Bureau of Alcohol, Tobacco, Firearms, and Explosives and must be registered. Buyers must be at least 21 years old, need to file a Form 4 for appropriate approval. This item is legal for sale and use in every US state except California and New Jersey.
So What's The Verdict?
All in all, the Micro Roni pistol carbine is a small device that packs a big punch. While it may not be a necessary item, even the most experienced firearms enthusiasts will likely find it enjoyable, effective, and intuitive to use.
Because of its longer sight radius and shoulder stock for bracing, the Micro Roni makes shooting a pistol a totally new experience. Whether you're looking for something to improve accuracy in home defense scenarios, or you're just looking to mix it up at the shooting range, this is an excellent addition to the arsenal of any serious gun enthusiast.