One of the most important pieces of gear a person can have on them is a good watch. Not only to keep local time but for the fact that a classy watch can accentuate the man. And for whatever reason traditional watches seem to slowly be fading away among the millennial generation in lieu of 'smart' accessories. More and more, 'smart' seems to become codeword for intrusive on our lives. But I digress. A good watch, like a good pair of boots, tells a lot about the man wearing it.
In the last RTO Course on Saturday afternoon's HF instruction and demonstration I spent a few minutes expounding on the value of having a good, accurate watch off-grid to coordinate potential guerrilla activities over a region. Interestingly enough, Fidel Castro would do this very thing by issuing Rolex GMT Master watches to leaders used as cadre in other countries, most notably Che Guevara whose GMT was recovered by the CIA agent who hunted him down, Felix Rodriguez. At the time Rolex was revered more for accuracy than luxury, and the GMT allowed for keeping accurate time in at least two time zones. That story aside, its a good idea to keep your watches synchronized by listening to the coordinated universal time on 10mHz.
I had a few people ask after the last watch review I did on the Momentum Torpedo if there was a lesser expensive, but just as capable option. Fortunately there is- Casio's Duro Dive watch. Casio's take on the Submariner design is a nice looking but no frills option for an effective tool watch. Having worn a G Shock for many years in non-permissive environments, I have a lot of confidence in Casio as a brand and after a few months on the wrist rotating between this, the Momentum and an Invicta automatic, I can say its done everything I need for it to do and looking very nice while doing it. Its quartz movement has kept perfect time and its stainless steel case has yet to take a scratch. This is not just a good watch considering its $50 price point, its a great one even at double the price.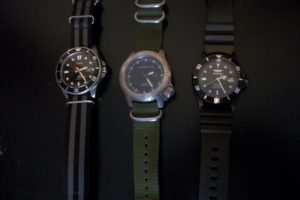 Placing it on a 22mm NATO band, its 44mm face fits my wrist perfect even if it may be a bit large for some. It comes with a rubber dive strap that, while perfectly functional, doesn't quite match the polished stainless case. To me at least the black and grey NATO band looks a bit better. True to form, the timepiece is rated at 200m/660ft water resistance. Its been perfectly waterproof for me thus far and I have no indication of fault.
One of the biggest things to note is its utility in the field. Its an easy watch to read under any condition due to its large face, simple layout and contrast on the bezel. The illumination is very high quality for an analog watch at this pricepoint as well, easily beating out the Invicta and being on par with the Momentum. On the downside, this is a large watch, almost distractingly so if you're wrists run a bit on the small side or if you're used to wearing lighter field watches. But that said its not heavy on the wrist, and personally for me it feels right at home.
I think its worth every penny of its minuscule price point and even at double the cost it would be worth it. Casio has knocked this inexpensive dive watch out of the park. For a rugged, no-frills but entirely capable time piece, you could certainly do worse while spending more money. At a minimum, you'll have a lot of bang for the buck in a very capable watch.