A while back, I came across a great flash sale for a flashlight company I had never heard of: OLIGHT. The deals were amazing, and a quick perusal of reviews gave me hope that they were a good company. So I jumped in and bought a bunch of their products. For $110 I got the following items:
Reviews:
The OLIGHT I1R EOS: An EDC Keychain Flashlight That Packs a Punch
---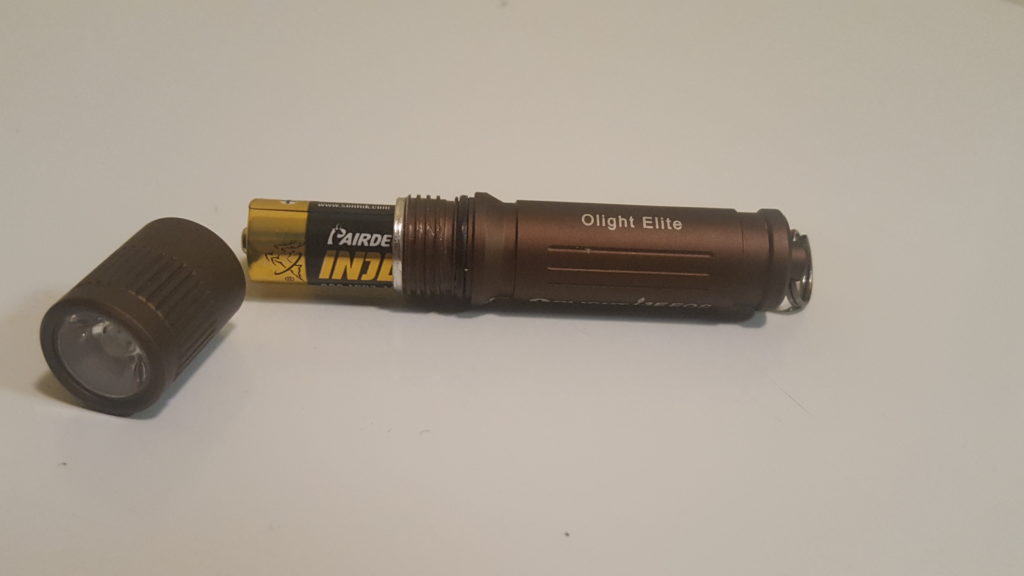 Next up for EDC flashlights is the I3E EOS flashlight. This flashlight runs off of a a single AAA battery as opposed to the rechargeable micro-USB set up of the I1R EOS. There are pros and cons to this. By having the ability to use AAA batteries (which I assume we all have plenty of), it allows for a quick battery change without waiting for the recharge and provides an easily scrounged battery type. On the other hand, having the ability to recharge off of computers, cell phone chargers, and mini solar panels (unless using something like Eneloop Rechargeable AA Batteries) may be preferred. YMMV.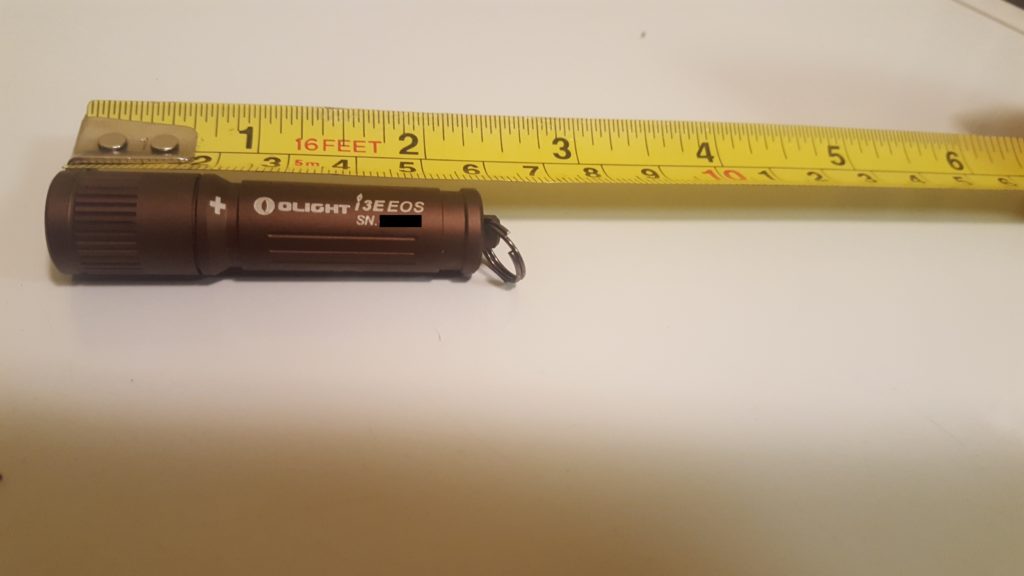 As you may recall, the I1R has a variable lumen output of 5 lumens on low and 130 lumens on high. The I3E falls in the middle at 90 lumens (except from one color model that puts out 120 lumens – why it varies by color I do not know). The run time is 45 minutes on Alkaline AAAs and 70 minutes on NiMH AAAs. Overall weight is slightly heavier, at 19 grams vs 12 grams for the I1R. Much like the I1R, the I3E does not seem to turn itself on in my pocket even when jumbled up with other keys, my phone, my wallet, or anything else in my pocket. This is a concern of mine with flashlights that operate with a twist, and both flashlights have not had those fears materialize. The cap takes a solid four turns to get even close to turning on, so by leaving it at three turns you ensure that the cap stays solidly on and does not turn on in your pocket. It feels ruggedand is rated for a 1.5 meter impact resistance
Here is the 90 lumen I3E (top, 45 minute run time) vs the 130 lumen high setting of the I1R (bottom, 20 minute run time) at 7 feet. The more delineated edges of light in the bottom picture points to a higher lumen output.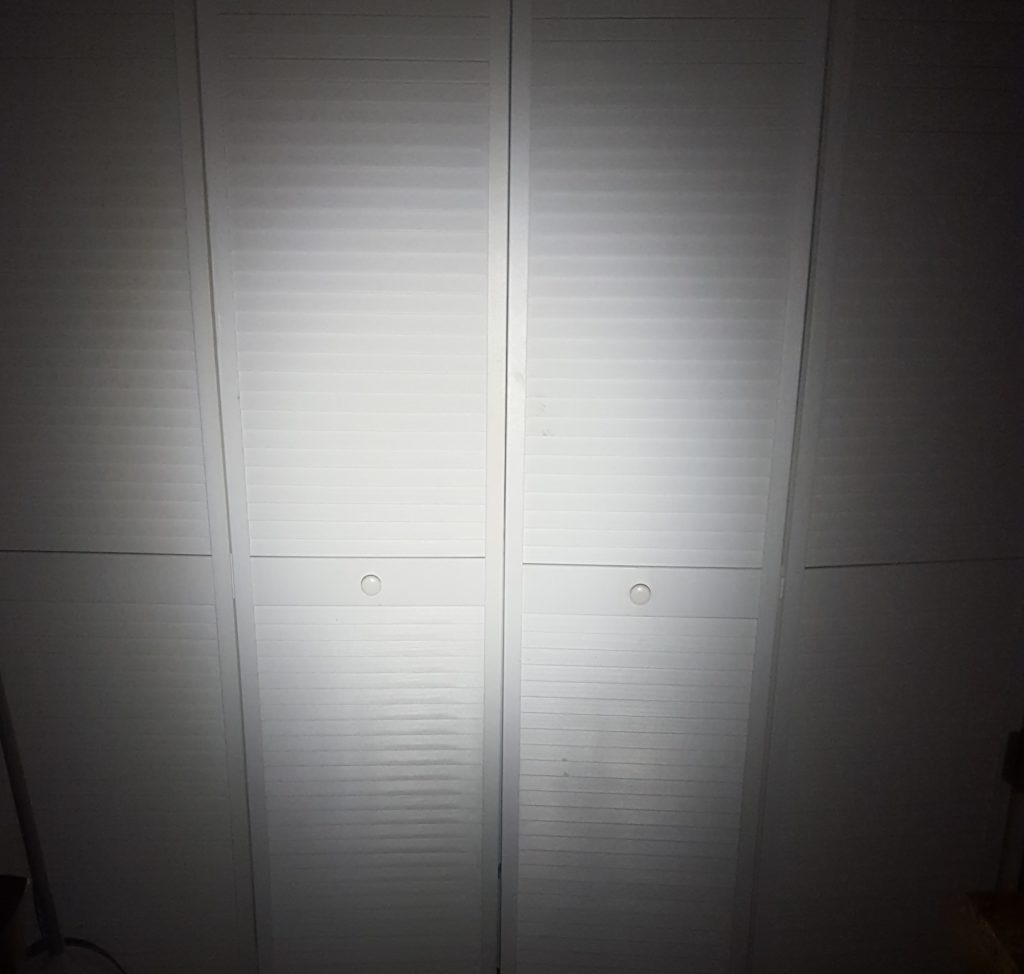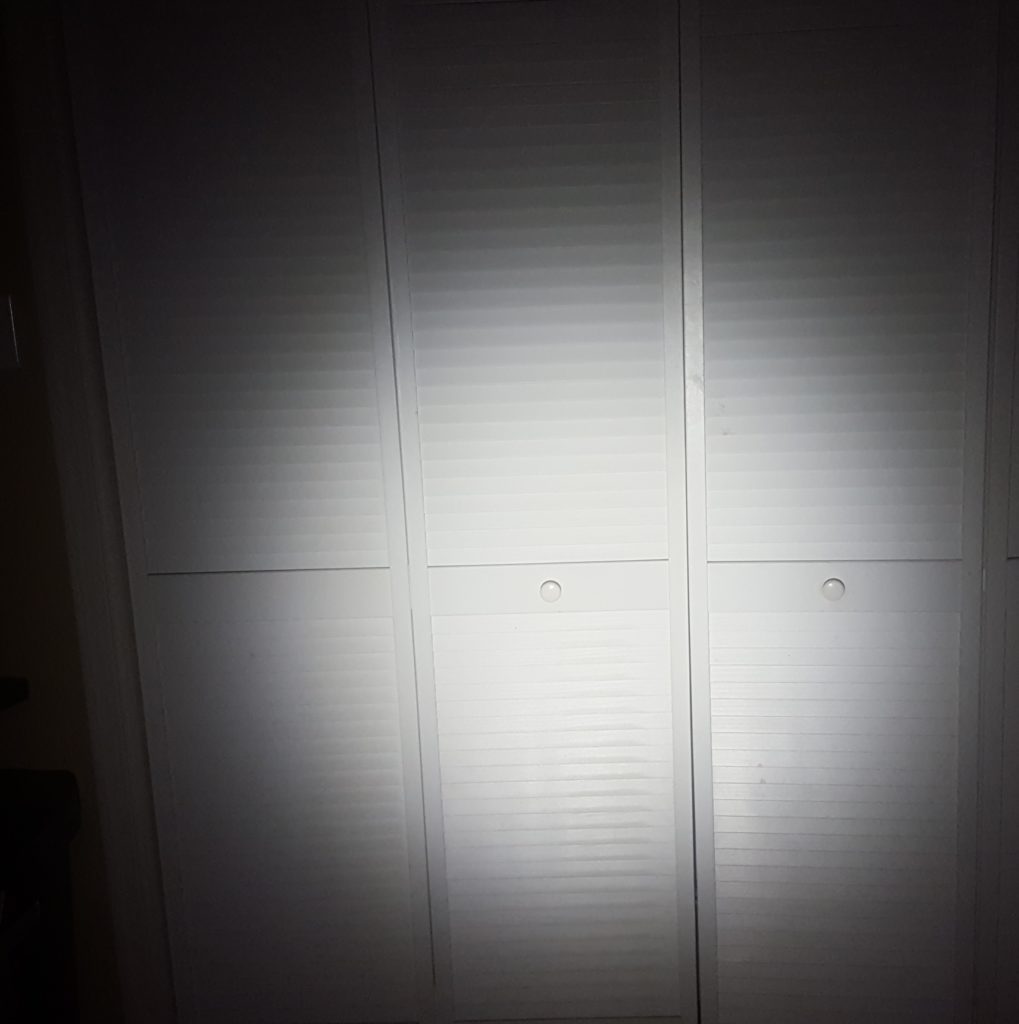 As an EDC keychain flashlight, it is a absolutely solid choice for $9.95. If I had to choose only one, however, I think that I would choose the I1R over the I3E because it is lighter, brighter on its highest setting, and lighter. The only downside is that you need to charge it as opposed to swap out the battery, which means that the flashlight is down for the 1 hour and 15 minutes that it is charging. If you feel that the potential charging downtime is a risk you don't want to take OR you have a healthy supply of AAAs (rechargeable or not), then I absolutely recommend the I3E. It is a great $10 flashlight, and it's price more than justifies the purchase.