China appears to be making moves at capitalizing on the chaos in the US and preparing a possible strike on Taiwan according to Reuters. This comes as Australia has sent a flotilla to reinforce the two US Carrier Groups already in the region. China has begun live fire drills as a counter and warned civilian vessels to avoid the area. This apparently coincides with the air raid posters that mysteriously appeared in Beijing last week.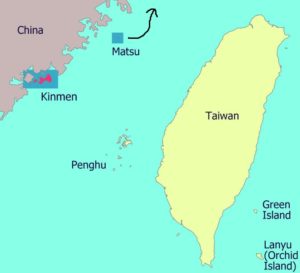 American Partisan has received unconfirmed reports of Amateur Radio operators from Taiwanese islands Dongsha and Kinmen stating that the exercises are underway and that they expect a strike "within 24 hours". Again, this is unconfirmed but comes after the Taiwan government released a report stating that low intensity conflict in the straits where those islands are located is possible.
In light of the recent increase in military activities conducted near Taiwan by the People's Liberation Army (PLA) of China, it will be advisable for Taiwan to be on the alert for low-intensity conflict, which can start with very little warning, retired Air Force Deputy Commander Lt. Gen. Chang Yen-ting (張延廷) said at a security forum.

The hotspots for potential low-intensity armed conflict include the Dongsha Islands and Taiping Island in the South China Sea, and Wuqiu Island near Kinmen, which are all under Taiwan's jurisdiction, Chang said.

One common characteristic of those islands is that they are "easy to attack but difficult to defend," he said.
Such a move may very well be a trap- China has unveiled the DF-17 hypersonic missile, whose primary mission is anti-ship. Given the social consequences of Covid 19 coupled with the USS Bonhomme Richard incident, the Chinese may be looking to take a first shot across the bow or even eliminate the US force projection capability in the Pacific while fomenting a revolution on the US mainland.