When Joe Rogan announced the huge deal with Spotify back in May, he made sure to stress that "It's just a licensing deal, so Spotify won't have any creative control over the show. They want me to just continue doing it the way I'm doing it right now." Well, as it turns out, some people at Spotify have a REALLY big problem with that.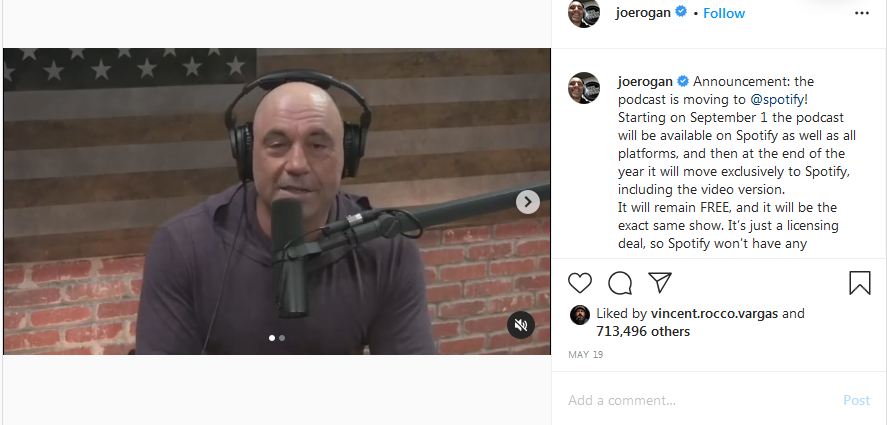 The first sign of trouble was when the back catalog of podcasts was added to Spotify. Astute listeners noticed several podcasts were not there:
"Rogan's first episode on Spotify aired on Sept. 1. Immediately, fans of the massively popular podcast noticed that several potentially controversial episodes were missing from the Spotify library, including interviews with firebrands such as Alex Jones, Gavin McInnes, Milo Yiannopoulos, Charles C. Johnson, Owen Benjamin, and Carl Benjamin…"
It certainly seems like all of those individuals have something in common, but I can't quite put my finger on it (/s). However, Joe Rogan has continued to be adamant that there is no censorship going on. In a recent podcast with comedian Tim Dillon, Rogan had this to say (emphasis added):
"Listen, me on the outside reading these f****** articles, like 'Oh my God, Spotify is censoring Rogan," Rogan said. "Spotify has said nothing. Listen to me, nothing. They haven't said anything to my manager, they haven't said anything to me. They've said nothing. They've apparently had meetings. But they have a lot of meetings. They have meetings about all sorts of shows. They have meetings about the music they have."

"It's an open-minded company," Rogan continued. "They treat their employees very well. They let them have discussions about things. And I don't know what these discussions are like. I don't know what happens, I really don't. But, in terms of them silencing me, zero. There's been nothing."
The lack of censorship, however, is not for lack of trying. There has been a revolt at the Manhattan office of Spotify over what they say is transphobic content, among other things. They held almost a dozen meetings with groups and individuals to hear concerns as they entities are trying to get Rogan either censored or kicked off the platform. Now, they are threatening to escalate the actions with a walkout or a full blown strike if their demands are not met. What are their demands, you ask? DIRECT EDITORIAL OVERSIGHT on the episodes.
That would include the ability to directly edit or remove sections of upcoming interviews, or block the uploading of episodes deemed problematic. The employees also demanded the ability to add trigger warnings, corrections, and references to fact-checked articles on topics discussed by Rogan in the course of his multi-hour discussions.
This is one of the reasons we at American Partisan are proud to be self owned. While outside forces may try to attack us through DDOS or other electronic methods, we are allowed to print whatever we want and say whatever we want because to are not beholden to anyone.