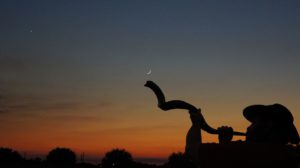 Over the past few years, I have studied more into what is written in the Bible instead of taking someone's word for it. As I study, I have taken an interest in following as close as I can, God's appointed times such as Sabbaths and His Feast Days. As I read Leviticus Chapter 23, the verses stood out to me that stated, "a statute forever throughout your generations in all your dwelling places". God was speaking to Israel and not just the Jews when He made these statements. As a person who has been "Grafted In" as described in Romans Chapter 11, I have decided to follow these as much as I can.  I have learned that all of these Feasts are symbolic of Yeshua / Jesus. 
   I have seen a few noted preppers in YouTube-land doing the same, such as Pastor Joe Fox at Viking Preparedness and The Patriot Nurse doing the same thing.  Pastor Joe Fox also has Shofar Mountain as a YouTube channel. 
   Over the past few years, I have used the Feast of Tabernacles, also known as Sukkot, to camp out since the spirit of Sukkot is to stay in a temporary shelters.  This is to remind us that Israel lived in similar shelters while wandering in the desert for 40 years.  If I can't get away, I will set up a tent in the backyard and stay in it.  It is a great opportunity to test your bugout or off-grid gear for the week.  I set up my solar panels for electric, cook on a fire, and even set up my ham radio.  If I make a dry run of bugging out, this is the time of year I do it.
  If you're so inclined to test your gear and plan, I suggest you give Sukkot a try and make it a yearly practice.  Sukkot dates are slightly different, depending on who's calendar you use.  I will be observing Sukkot beginning at sundown on October 2nd, 2020. 
A few links of interest:
Be Ready,
Holy Serf