D&L Custom SLR / Carbine Project Update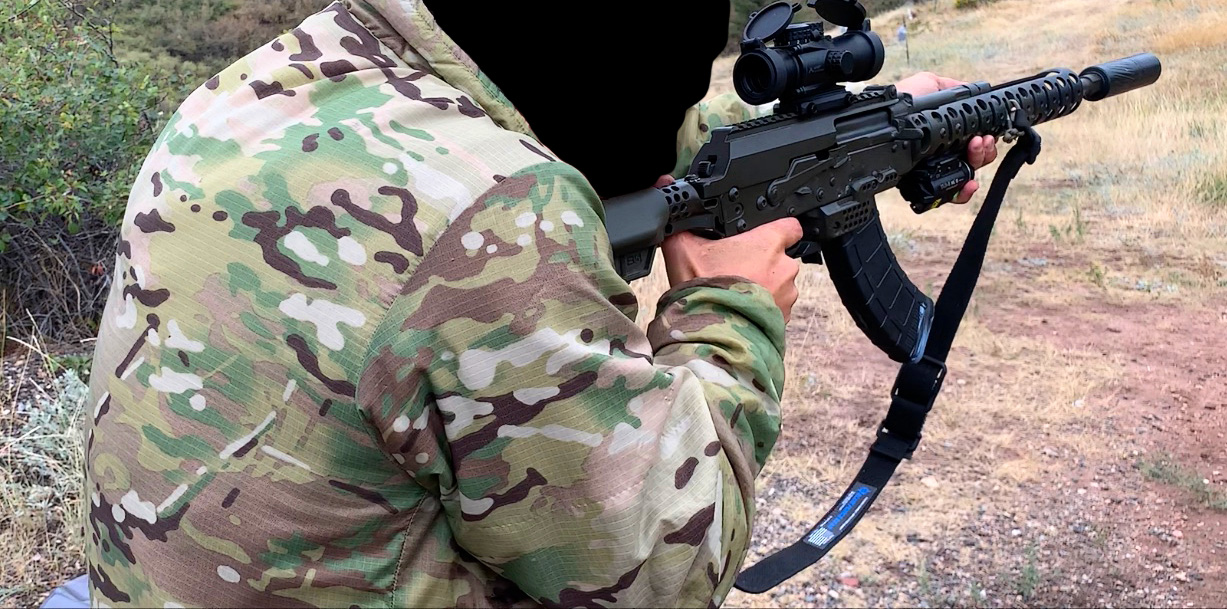 The goal of the D&L inc. custom carbine project has been clear from the start; To create a high performance fast action semi-automatic-only carbine capable of long term field dependability and reliability with simple maintenance requirements. A carbine suitable for duty, defense, hunting, high volume training, and practical competition shooting.
Project input was accepted from shooters with a wide variety of backgrounds. This information was combined with Dave Lauck´s 40+ years of practical carbine experience. The expected use distance focus was 0-200 yards. Only existing and commonly available/affordable intermediate cartridges were considered to assure shooters would be able to train to a high level of skill with the carbine. Carbine project research dated all the way back to the 1940s and the introduction of the StG44, and progressed with hands on experience through the AK, SKS, .30 carbine, AR15, M16, CAR-15, Valmet, Galil, FNC, mini-14, HK33/53/93, and AUG. Objective consideration was given to the good and bad features of all of these firearm designs. The goal was to incorporate the good features into the new carbine project, redesign or drop the bad features altogether, and add performance proven modern features.
A mechanically safe design with a track record of long term field reliability and durability with simple maintenance requirements were top priorities. This led shooters to the AK design. However, shooters who know the AK well know its many drawbacks; such as poor ergonomics, only fair accuracy, loose top cover not suitable for direct mounting optics, non-free floating barrel, poor felt trigger pull, wrong side charging handle for RH shooters, narrow magwell not well suited to speed loading, poor pistol grip angle, angled buttstock not well suited for rapid fire control, non-adjustable buttstock, safety lever not suited for operation from a firing grip, ineffective muzzle brake/flash hider, poor iron sight visibility, no commonly available/practical iron night sights, not easily adaptable to accessory items, and sharp sheet metal corners and construction not well suited to operation without operator injury.
Even with all of these issues of concern, experienced shooters recognized the proven reliability, robustness, and simplicity of the AK´s central operating system. The mission was to correct all of the weak points while retaining the AK´s proven central operating system. Consideration was given to a counterbalance system but unanimous opinions favored staying with the simplicity, compactness, and lighter weight of the original operating system. Basically make the NEW carbine handle as easy as an M4, but have the reliability, robustness, simplicity, and ease of maintenance of the AK. This has consumed years of time, pallet loads of test fire ammunition and many investment dollars, none of which were government funded. This project has led to extensive enhancements for the best performance possible.
The D&L Inc custom carbine is now available for pre-order in two intermediate cartridges; 7.62 x39mm and 5.45x39mm. (The 7.62 is comparable in performance to the 30-30 and .300 Blackout. The 5.45 is comparable to the 5.56mm. Ammunition is available and affordable.)
The 7.62 version comes in at a base carbine weight of 7.5 lbs and the 5.45 version comes in at a base carbine weight of 6.5 lbs. These firearms are not mass produced off-the-shelf items. They are crafted one at a time for serious shooters. They are customized to individual shooter requirements for the best performance possible. They feature the same handcrafted attention to detail as other custom firearms from DLS Inc.
A left side and or ambidextrous charging handle and flip up fully adjustable and lockable iron night sights are available on the 7.62 version. The 7.62 version is also available with a muzzle brake / compensator / flash hider / and emergency wire cutter. The 7.62 model also features an adjustable gas system that is properly set and permanently locked during construction and final testfire. Properly setting the system allows for reliable and positive operation with all reasonable ammunition powder charges, and takes the aggressive slam cycling out of the system.
The 7.62 version has a buttstock capable of housing a secondary magazine. This is well suited to emergency responders who grab their carbine and want two magazines on board. Carrying a short magazine in the buttstock also allows shooters to put the short magazine in the magwell and assume a low prone shooting position as needed for cover and/or stability. The buttstock is adjustable for length of pull and can come equipped with an aluminum or rubber buttplate.
Both carbines feature rigid picatinny optic mounting rails at the proper 12 o'clock position over the receiver to allow for a variety of optic mounting. No bulky side mounts required. Both optic mount designs on the D&L custom carbines allow the operator to have direct and complete access to the internal components of the receiver, including the rear barrel chamber area. This is accomplished by easy and quick removal of the top cover, or hinging the entire top cover open. Direct and easy access to internal receiver components is very important to allow easy field maintenance. When the rifle gets contaminated with dirt, sand, mud, water etc. it is simple to clean out and stay operational. Shooters experienced with firearms which restrict access to the internal areas, such as the AR15 / M16 and or bullpup designs, know that once they become contaminated under field conditions they are very difficult to clean out. Some companies will modify AR-15s to take AK magazines, and or use clamshell receivers to enclose AK style rifles. Both of these ideas create a carbine which is difficult to clean out once it is contaminated. People who claim a 'closed system' carbine does not get dirty or contaminated obviously do not have enough field experience. The DLS custom carbines feature rigid optic mounts and maintain full and easy access to the carbines' internal workings in order to make field maintenance easy.
A smart mechanic once observed and commented that the fine inner workings of a AR-15 style carbine are as close fit and complicated as a Swiss watch, while the inner workings of an AK are as simple as a farm tool. One needs much less maintenance and is much easier to clean when it comes time to do so.
Both D&L SLR carbines allow cleaning supplies to be carried inside the stock tube, as well as in the pistol grip and vertical forearm grip. The buttstock has been redesigned to extend straight back from the receiver for better rapid fire control. The handguard design allows for free floating the barrel, (with the exception of the gas tube connection), for improved accuracy. Accessory items can now be easily mounted on the handguard via detachable picatinny rails. The pistol grip angle and size has now been redesigned to allow for better handling and control. A combination trigger guard/magazine well has been rigidly integrated into the bottom of the receiver for fast and positive rock and lock magazine changes. The trigger units have been upgraded to a level of excellence. A single side or ambidextrous safety unit can be installed. The new safety design allows for operation by the firing hand while in position on the pistol grip. The magazine catch is ambidextrous, and can be operated by the thumb, or by the trigger finger while the hand is in position on the pistol grip. All possible surfaces have been dehorned for fast operation without being cut. Chrome lined barrels are standard for durability. The color of overcoating and accessory items/optics can be chosen by the client.
Success has been achieved in creating this ultra-reliable carbine package that shooters can truly depend on for the long term, and do so with little and easy to perform maintenance. However, it is only with extensive and detailed hand craftsmanship that individual custom carbine projects can be turned into sleek, snag free and easy to handle fast action carbines. These carbine projects have surpassed the time requirements that it takes to construct a premium 1911 pistol. In the end the performance is worth the cost and effort.
– POR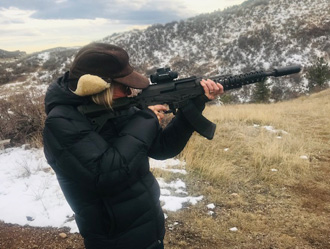 Dave Lauck is the owner of D&L Sports, Inc., custom builder of several of the finest weapons found anywhere in the world and is recognized as the foremost expert on the 1911 platform. He has built custom 1911s for a long list of celebrities as well as President Donald Trump and was awarded "Pistolsmith of the Year" by American Pistolsmiths Guild in 2012. His AR-15 carbines have frequently been used among top-tier competitors and his sniper weapon system, the MR-30, was featured as the Black King Rifle in the TV Series Shooter